Lemuria
The Great Pyramid
A Familiar Enigma
More familiar to most people are the large stones that make up the nearly 500-foot tall mountain that is the Great Pyramid at Gizeh in Egypt. While most of the stones, weighing between 2 and 10 tons, are not large in comparison to Baalbek, scientists estimate there are or were some 2.3 million precisely carved blocks in the Great Pyramid, which is claimed to have been completed in just 20 years. To accomplish such a feat, fourteen of these stones would have to have been set in place every hour, 24 hours a day, 365 days a year, for twenty years! Yet, it is suggested the structure was completed through a laborious method of hand-chiseling the stones out of a quarry, dragging and rafting them from nearby and distant quarries to the Pyramid site using wooden barges and rollers, levers and pulleys, and tens, if not hundreds of thousands of workers.
During the nineteenth century, a noted Egyptologist named Flinders Petrie found some round stone billets that were determined to be waste from hollowing out the empty granite sarcophagus in the King's Chamber of the Pyramid. Marks on one of these round billets clearly show that it was cut using what appears to be a 4" diameter core drill of sufficient power and toughness to bore through solid granite at a rate of about two inches for every revolution of the drill bit. This was a staggering discovery, as anyone who works with granite will confirm, and seems to indicate the use of far more sophisticated machinery than is currently believed to have existed at the time the pyramid was constructed.
The Pyramid stones are only a fraction of the weight of the large Baalbek stones. The route from quarry to temple at Baalbek is uphill, over uneven terrain. There is no evidence of a flat hauling surface, nor is there room on the hilltop to build long gentle ramps or even to allow large numbers of men or animals to congregate.
More baffling is how the mammoth blocks were lifted and precisely positioned twenty or more feet up in the wall. Construction engineers maintain that while it is possible to build a derrick to hoist the largest Baalbek stones, today, moving them any distance, laterally, would present serious challenges.
The megalithic stones of Baalbek were ancient and already forgotten to history when Alexander the Great first encountered them in the 4th century B.C., and there was no evidence even then of who had built them.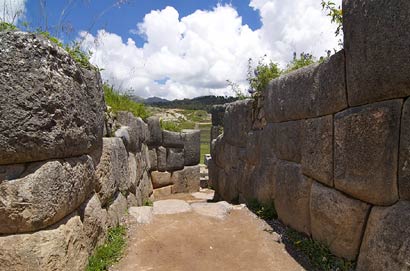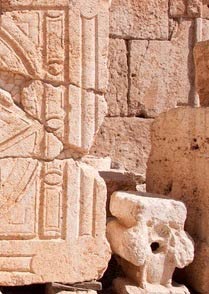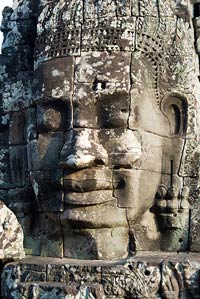 We could go on talking about interesting stones at other remote sites, but look more closely at what has been described so far. More interesting than the individual stones themselves, is that the Baalbek construction shows stylistic similarities—interlocking, precisely cut blocks that lend great stability—similar to titanic stonework in Peru and Cambodia pictured above, as well those found in the Americas and on Pacific Islands. How would societies of primitive people living in distant corners of the world develop, simultaneously, the technology to plan, design and build in almost identical ways unless they shared access to knowledge and skills common to the other locations?